back to blog
Sales
I researched all the cloud CRMs so you don't have to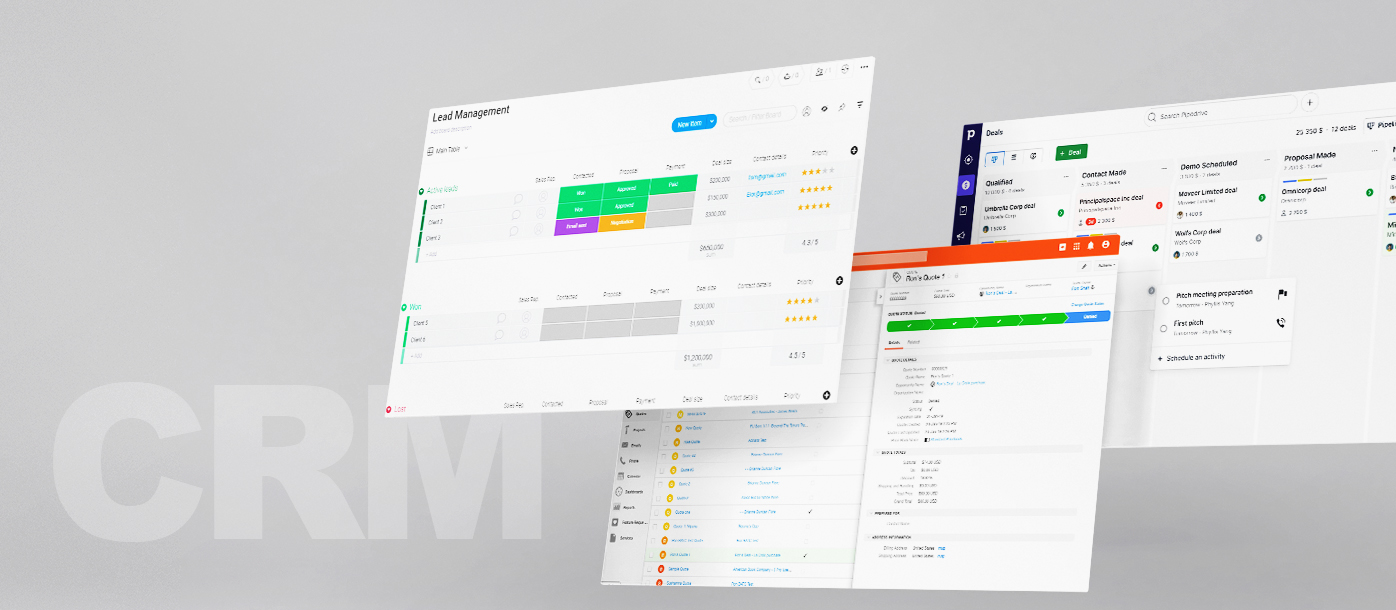 I wear many hats at Borealis. As the CEO my position has been constantly changing as the company grew. In the past I wrote code, did UI & UX design and managed projects. I ran HR, did marketing and was the social media manager. I assembled furniture, and I carried equipment. You name it. I did it.
I also do sales which is still one of my main roles. At the same time though, we never did proper active sales in a traditional way. All our sales have always been word-of-mouth and recommendations based. New clients would reach out to us based on a recommendation. I would then meet up with them, present what we do, find out if we can help and try to strike a deal.
The process I had was extremely poor. There was no active outreach to clients. We had no pipeline, and we would not track deals. Quite often we would have a company send us a project inquiry. We would start negotiating, and the client would ask us for some time to prepare something, or think about something, but would never come back to us. We never followed up, and the lead would go cold. If we did, perhaps we would have struck a deal. At the same time we had more than enough business, so we were not concerned with it.
The company grew, and we got more organized. We can now scale and grow fast and healthy. Because of this, for the first time ever, we are trying to improve our sales process. We want to build a sales pipeline and create a proper process and do more active outbound sales. As with a lot of the things we do, the process is as follows. I try to figure out the baseline by myself, write a playbook on it, and then start a team to take over.
One of the first things I am trying to do is setup a CRM and track all our leads and deal opportunities there.
I really have no experience with the popular cloud CRM tools. So, I've been researching them. I've identified 5 popular ones that I've evaluated. I decided to write down my thoughts on each one, and I decided to share them with the world.
I think it's important to understand that the needs for a CRM are different for each company. What works for Borealis might not work for you. We sell services. This is much different than selling products for example. Keep that in mind when reading my opinions. I've been evaluating these for my needs. Also note that, I've not gone too in depth with my evaluations. I could have easily missed some important features in some of these, so I'm hoping I don't anger any loyal users of some of the systems on this list.
The way I evaluated the systems is with a small batch of real data. I would start a trial on each one, put in the trial data and evaluate the software from there. I was guided by these needs, which I consider very basic needs for a CRM:
a pipeline that allows me to track leads and the journey of turning those leads into deal opportunities
a second pipeline to track the opportunities lifecycle
third pipeline to track won projects and their lifecycle – just basic statuses, what's waiting to go in production, and what is being produced right now. We use a different piece of software for actual project management
I wanted the pipelines to be very clear and help me understand in what phase is every item in the pipeline, what the next steps are and are there any tasks, these 3 pipelines give me a good indicator of the health of our production team
an easy way to add tasks with due dates to pipeline items so I don't forgot to complete them and I can create a schedule when to follow up on a project if nobody gets back to me etc.
The software should be able to connect to the inquiry form on our website and catch data from it directly
I wanted it to have a way to attach Google Drive files to opportunities, as we store our estimates in it, so I wanted to be able to link them to opportunities, so I can have a clear overview of everything in one place
the software should have a good REST API that is well documented, so we can integrate anything we need ourselves
I wanted a nice dashboard with an overview of the overall business health viewed from a sales and production standpoint
the software should be able to manage and handle my emails – tie them to deals and have tracking of views and clicks inside emails, and a way to save and use templates for emails.
Without further ado here are my thoughts on each of the 5 CRMs I tried:
1. Insightly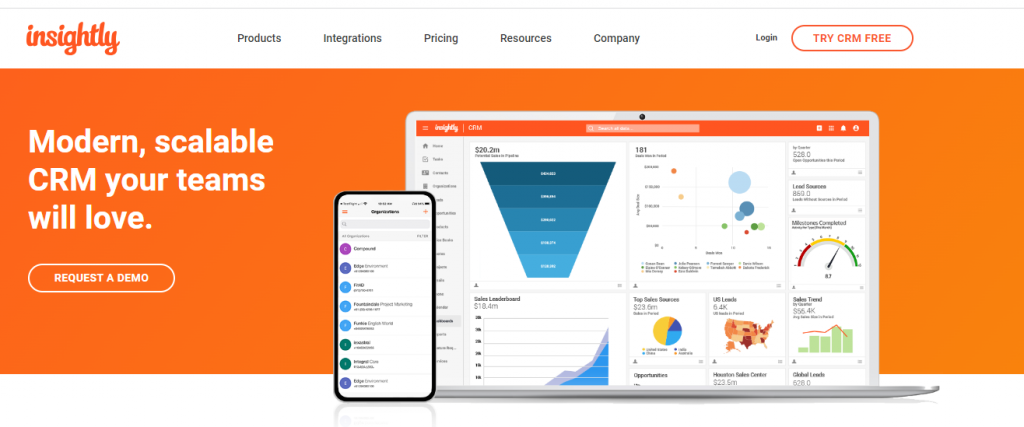 Insightly has been around since about 2009 and I've briefly used it in 2012. I remember thinking how simple to use it was at the time and was eager to see how it looks today and how different my opinion would be.
Insightly was easy to learn and setup. It has all the basic features I need. It covers all the 3 pipelines well. Including the projects one. Once I dug deeper I realized the pipelines were missing some fields I saw in other pieces of software that I consider good. I got past the missing fields by manually adding them. You can really setup your fields anyway you want with it. This feature was present in all the CRMs I tried.
While easy to get an initial grasp on, Insightly at the same time feels a little bit outdated and I feel like some of the screens could be organized better. When you click on an opportunity to get its details it pops from the right and it's organized into tabs. You don't have a nice clear and organized view of everything in one screen like with other CRMs. It's unintuitive and you need to learn how to find your way inside it, but once you do it works.
Insightly had a no fuss Google Drive integration, which was only 2 clicks to setup and works just like I expect it to. I really liked the way that the 3 pipelines interacted with each other. Qualified leads can be turned into opportunities. Won opportunities can be turned into projects.
The email integration was pretty basic, you can only forward emails to a custom email address to make them appear inside Insightly. Sending emails from the system has no open or click tracking and the UX for sending emails was pretty frustrating.

I think Insightly is a pretty basic CRM with basic features, that is at the same time feeling a bit outdated.
2. Zoho CRM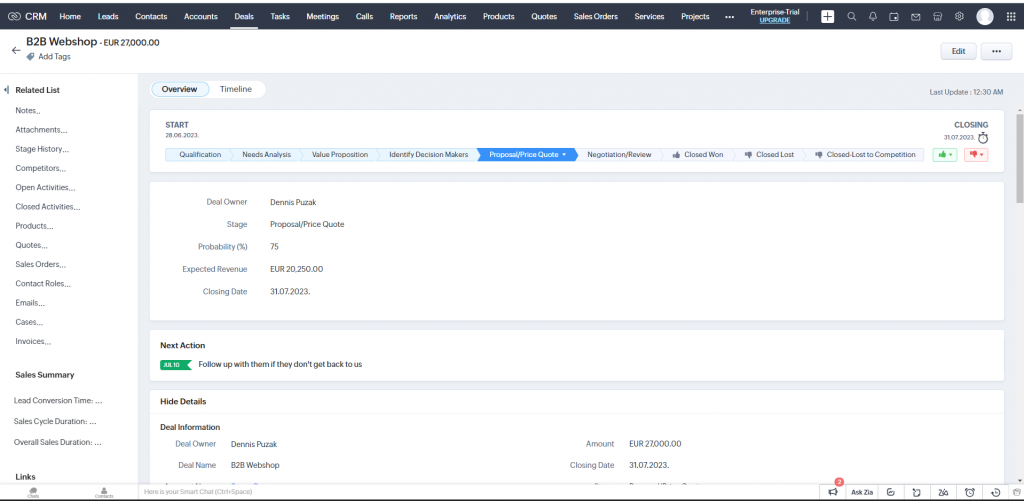 I've used other Zoho apps in the past. Including Zoho Mail and Zoho Vault. I like their products. They strike a good balance between being easy to use and having a lot of features. So I was really interested in Zoho CRM which is I believe one of their oldest products.
It's very similar to Insightly, but I found the interface here just a bit more modern, clean and manageable. Zoho out of the box has a lot of features focused on sales of products. They allow you to create products for sale from the system, do sale and purchase orders, create invoices directly from the system and more. You can also integrate it with other tools in their suite. Out of the box it seems to be missing a projects pipeline. There is a projects menu option, but it asks you to connect to their project management software which I have no intention of using.
Zoho has an easy to setup Google Drive integration. But, there are two bad things. First, their UI for finding files is a bit strange and I found it a bit hard to navigate. Secondly it doesn't actually link the files from Google Drive, once you pick a file it takes it from Google Drive and uploads to Zoho. This for me eliminates the purpose of this integration. I want the file to be linked so that if we change the estimate it updates in the CRM automatically.
I easily integrated my email with Zoho, but they have no open or link click tracking.
Overall Zoho has a lot of options and while it looks clean it does seem to overwhelm you with information which could be better organized. It takes a while to learn how to use it and the UI feels like an old Boostrap theme at times. I get the feeling it's for more advanced and larger teams needing everything inside it like price lists, invoices, quotes. And it probably works best if you are on their whole suite and integrate it with other software they offer.
3. Salesforce

Salesforce is the king of cloud CRMs. One of the oldest and most well known CRMs today. They started in 1999 and are one of the few companies that survived the dot com bubble of the early 00s and lived to tell the tale.
I had a lot of negative bias towards Salesforce. The perception I had when reading about it was this huge, complex, hard to use and setup outdated dinosaur of a software that I would not like at all. I was very wrong. Salesforce is extremely robust and I liked a lot of things about it. I don't think it's hard to use or outdated, but it is complex and it could still be better in terms of its UX. It has a vast number of features, and you need to set it up to your needs, and not everybody will be able to do that on their own. I was still able to manage through it.
I really liked their screens with details when I click an opportunity. It gives a nice view and all the info is easy to process and understand at a glance.
There is no out of the box way in the base packages to integrate Google Drive like there is with Insightly. I googled and there are probably ways to get past this (like Zapier), they just need more effort.
The potential issue with salesforce is pricing. It's annual only, and it gets more expensive as you dig deeper. I would prefer something with monthly pricing where I can see the benefits in a few months and then commit fully for a year when I'm ready. The salesforce pricing can also jump quite high depending on what you use. It can be quite hard to figure out once you tangle yourself into their ecosystem. You have a couple of basic packages starting at 25$ / user / month and going to 300$ / user / month. But it doesn't stop there They have a ton of add-ons that are charged separately too. Each one addon in the range of 25-75$ per month. And some thousands of dollars per month to the cost.
It all adds up and with a whole sales time using it in an advanced way you can soon be spending 10 000+ dollars per month on Salesforce. However, it is powerful. Once you reach that level of use where you need 10 000$ of features, the software is paying for itself through the value it brings. This is probably best for large sales teams where you want to do a ton of things like maybe integrate a whole call center into the system.
4. Pipedrive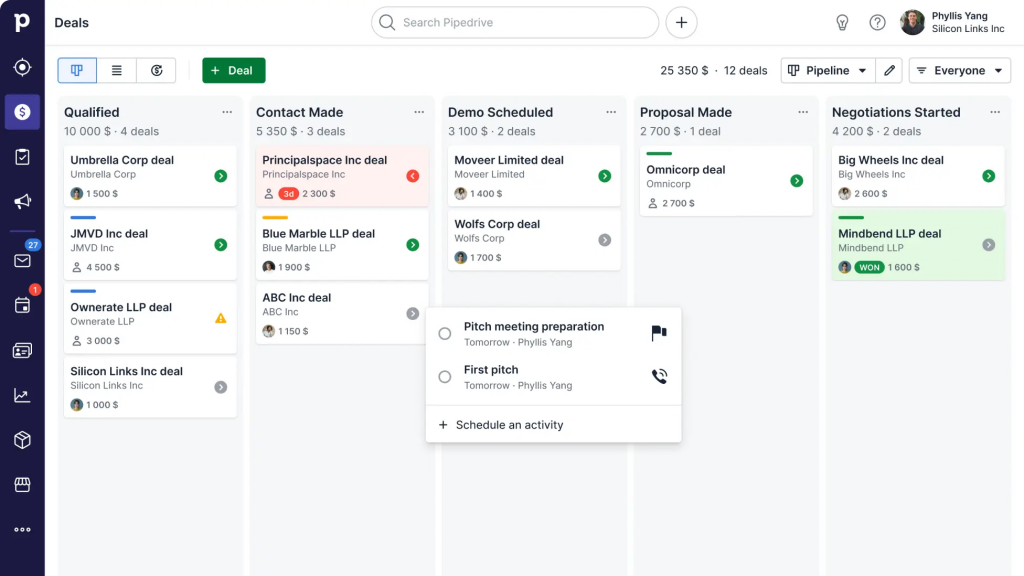 I've had some very brief experience with Pipedrive a very long time ago. I think the unique thing that it brought back when it first came out was the Kanban board organization of items, which has since become something that we see everywhere, both in all the other CRMs and other kinds of software like project management tools.
As soon as I got into it I just loved how slick the UX & UI of Pipedrive was. It's just a few steps above the others. I was worried it might be too simple. Even though my use cases were not really complex. Our needs would grow with time and I wanted our CRM to follow us. Luckily it was not. It seemed to tick all the boxes. I simply loved how organized the opportunity view looked.
Pipedrive had a Google Drive integration, but it's way more sophisticated than what I need. They have their own document editor and it would pull my drive documents into its own editor. The feature is cool and allows a really good workflow, but was above my needs.
Pipedrive has project tracking which has some neat features. It's paid additionally, plus it didn't let me track the financials of the projects in a way I wanted, it's designed as a basic high level project management tool.
The email integration was really good. We use Google business email. Basically I connected it to my email account and anything I file under a certain label in my inbox ends up in Pipedrive. The email composing UX is just fantastic, and there is link click tracking and open tracking. It all works great. I love it.
Pipedrive has automations where you can setup on certain actions for it to do some things. I was disappointed to see that it can't do any email based automations which is what would help me.
Overall the UX in Pipedrive was just a league above anything else and I was in love with it.
5. Monday.com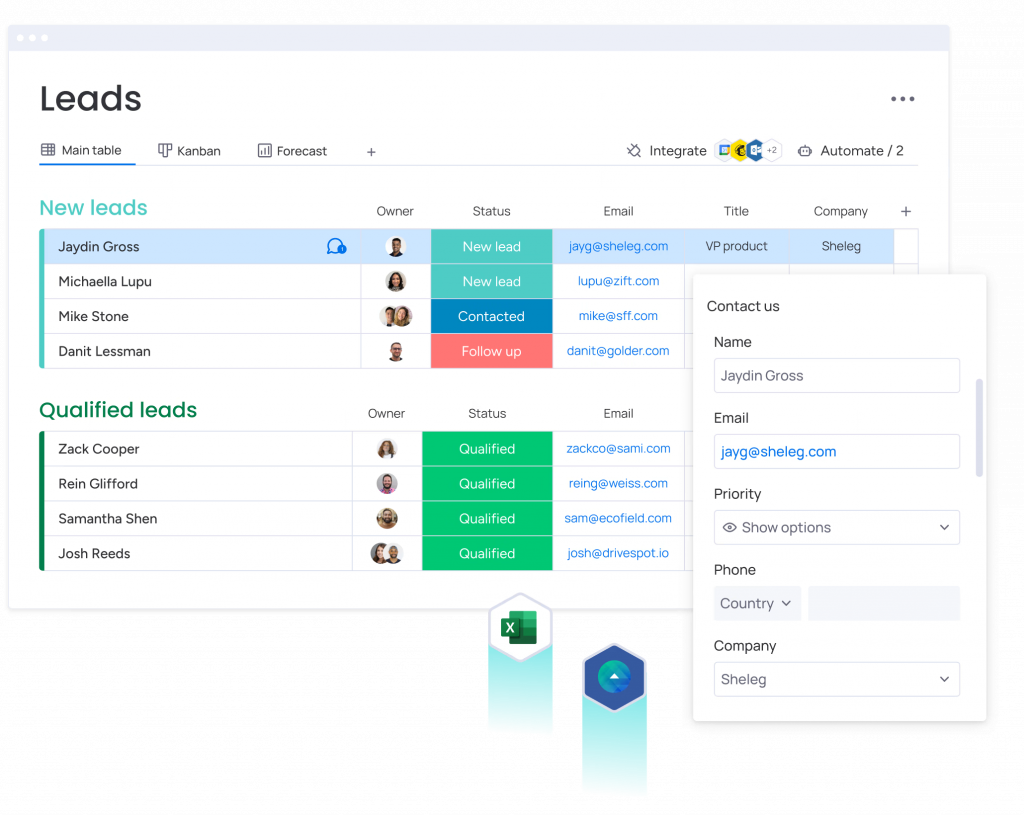 I don't know if it's just me but wherever I go I can't escape Monday.com marketing. Their videos popup everywhere, whatever I search on google their ads come first.
Unlike the others on this list monday.com is not laser focused on being a CRM. It seems to be trying to fit a lot of roles into one tool. I'm not a huge fan of that.
Monday like Pipedrive looks very modern and slick. The amount of options I had on the opportunities and leads was very low. And I just could not figure out how to add custom fields. The system seems to be very flexible, and I think it's somewhere in there but I just could not find it, and gave up. Maybe I was just too tired after evaluating so many similar tools.
I also could not find a way to attach files to opportunities. The only thing I could do is write quotes using it's own tool. This seemed pretty easy to use, but was not what I was looking for.
Monday does have a lot of automations and a way you can set them up easily. If you've used IFTTT ever this is similar. You automate actions with simple if statements. Eg. If deal status changes to won send an email. It's pretty powerful stuff.
Overall Monday felt slick at first, but I felt like its UX doesn't 100% follow it's looks and it's not as easy to use at first seems. This might the consequence of it not knowing what it wants to be. Monday seems to want to be everything at once and it gets marketed as a lot of things, but then ends up not being great at enything. Or it could be me being annoyed with their marketing and not giving them a fair chance… or it could be that this was the last tool I evaluated and I was not as concentrated anymore and got tired of so many of them 🙂
Bonus: Hubspot
Hubspot was not on my list initially. I thought it was more of an inbound sales automation tool that lets you track inbound inquiries and automatically react to them and optimize your inbound process, measure conversions etc. We've integrated Hubspot into a lot of projects for clients, but never actively used it.
A lot of people I know love Hubspot and swear by it and I've learned that some of them actually use it as an outbound sales CRM. I learned this after I almost completed my research and I already settled on my choice and was tired of evaluating so many CRMs. So I decided not to properly evaluate it. I just gave it a quick look. My thoughts are that Hubspot started the way I described it, but with time evolved into a full CRM. At first glance it looked like it still is best used like that inbound automation tool, but also extended with the full CRM capabilities. I might be wrong, but I did not have the patience at this time to dig deeper. One day I'll give it a better chance.
Pricing
All of these CRMs have a pricing model where you pay per user / month. And from there they have different packages with more features. They all give you a discount if you go annual and many have additional packages of features that go beyond the basic packages and give you even more features. Salesforce is unique that it doesn't have monthly pricing, only annual. The prices I put in are if you go monthly, with no annual discount.

| Insightly | Salesforce | Zoho CRM | Pipedrive | Monday.com |
| --- | --- | --- | --- | --- |
| $29-$99 / user / month | $25-$300 / user / month, lots of additional features that can add up to the monthly cost. They have a loyalty management package that is an extra $30 000 per month for example | €20-€65 / user / month | 22-120€ / user / month. Has a few add-ons that add to your monthly cost ranging from 7to 40 EURs per month each. | 12.5-30€ / user / month. You have to purchase at least 3 users. They have an enterprise pricing option with no public price. |
Final thoughts and ultimate pick
I went with Pipedrive as my ultimate pick. I was in love with their UX and the software is a joy to use. I feel like it was designed in a way where it solves real problems well. And it was one of those pieces of software similar to Slack or Notion that I instantly fall in love with, and can't live without after I start using them. It did not tick all my boxes, but it ticked many, and It introduced me to features I did not know I need at first. The ones that it doesn't cover I'm willing to work around. I'll do another blog post detailing my whole setup and process with Pipedrive after I settle with it with time. In the meantime I find great joy in using it and seeing the database grow and my stats dashboards getting filled up.
I think all of these CRMs, especially the more advanced ones like Salesforce have the ability to cover a lot more complex use cases that I don't need at this moment and I probably didn't dig deep enough into them. You could maybe be a telecom doing contract renewals and need info on your contracts and have a call center doing the calls, all connected to your CRM, with call recordings landing in it and having all your contract info in that one place. I'm sure something like Salesforce can cover you well in such a scenario. So again, I hope my surface reviews of each one don't anger any loyalists of those systems.
I said already I've never done traditional outbound or cold sales in the past. Now that I've tried it I have to admit, there is a certain kick of dopamine you get when a cold lead responds back to you and it just gets stronger when you convert it. Watching as you progress towards your targets is just addictive. I fully get sales people that are so committed to closing and live that lifestyle. This is another interesting chapter in my CEO journey, and looking forward to where it leads.